Starting a clinical diagnostic testing laboratory in the United States involves several critical steps, each integral to the successful operation of the lab. This guide will outline these steps and provide insights into selecting tests and necessary equipment.
Step 1: Market Research and Planning
Identify Your Niche: Understand the specific needs of your target market. This could include general diagnostic testing, specialized tests (like genetic or molecular testing), or focusing on particular medical conditions.
Conduct Market Research: Analyze the demand for laboratory services in your intended area. Look at competition, potential clients (hospitals, clinics, etc.), and patient demographics.
Step 2: Legal Requirements and Accreditation
Business Registration: Register your laboratory as a business entity (like LLC or corporation) with your state.
Licensing and Permits: Obtain necessary licenses from state health departments and other regulatory bodies.
Accreditation: Consider accreditation from organizations like the College of American Pathologists (CAP) or The Joint Commission. Accreditation ensures quality standards and is often required by insurers.
Step 3: Securing a Location and Infrastructure
Choose a Location: Select a site that is accessible to your target clients and complies with zoning laws for medical facilities.
Laboratory Design: Design your lab space to accommodate equipment, personnel, and workflow efficiently.
Step 4: Equipment and Technology
Selecting Tests: Decide on the tests your lab will offer based on market demand and your expertise. This decision will guide the type of equipment you'll need.
Purchasing Equipment: Acquire analyzers and equipment suited for your selected tests. This includes:
Analyzers: For chemistry, hematology, immunoassays, etc.
Microscopes
Centrifuges
Refrigeration Units
Safety Equipment
3. Information System: Implement a Laboratory Information System (LIS) for managing patient data, test orders, and results.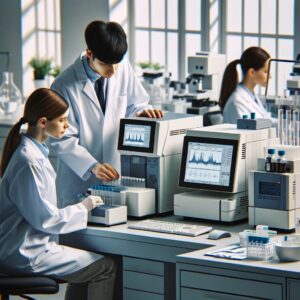 Step 5: Staffing
Hiring Qualified Personnel: Recruit skilled technologists, technicians, and support staff. Ensure they are licensed and certified as required.
Training: Provide comprehensive training on equipment, procedures, and safety protocols.
Step 6: Operations and Quality Control
Standard Operating Procedures (SOPs): Develop SOPs for every test and process in your laboratory.
Quality Control: Establish a quality control program to ensure accuracy and reliability of test results.
Step 7: Marketing and Networking
Marketing Strategy: Develop a marketing plan to reach potential clients, including doctors, clinics, and hospitals.
Networking: Join local and national professional organizations to build connections in the healthcare industry.
Step 8: Financial Management
Budgeting: Create a detailed budget covering equipment, staffing, operational costs, and marketing.
Billing and Insurance: Set up a system for billing patients and insurance providers. Understand Medicare, Medicaid, and private insurance billing.
Step 9: Compliance and Legal Considerations
Regulatory Compliance: Stay updated with healthcare laws, including HIPAA, CLIA, and OSHA regulations.
Legal Counsel: Consider consulting with a healthcare attorney for compliance and contractual matters.
Conclusion
Starting a clinical diagnostic laboratory is a complex process that requires careful planning and adherence to regulatory standards. Deciding on the tests to run depends on your market analysis and expertise. Equipment needs will follow from the types of tests you choose to offer. Constant attention to quality, compliance, and market trends is crucial for the long-term success of your laboratory.