Introduction
The COVID-19 pandemic brought unprecedented challenges and changes to the diagnostic laboratory industry. As the demand for COVID-19 testing surged, laboratories adapted rapidly, scaling up their operations and capacities. However, with the decline of COVID-19, the industry is navigating a new landscape marked by both positive developments and significant challenges.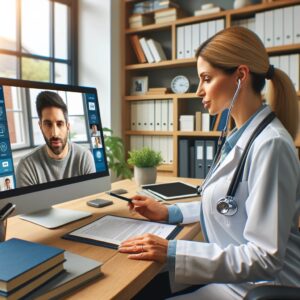 Diversification of Test Offerings: A Positive Outcome
One of the most notable positive impacts post-COVID has been the diversification of test offerings in diagnostic laboratories. The pandemic necessitated a rapid expansion in the types of tests labs could perform, pushing them beyond their traditional boundaries.
Innovation in Test Development: Laboratories developed new testing methodologies to detect and track COVID-19, which translated into a broader skill set and technological advancement. This innovation has extended to other areas of testing, including genetic and molecular diagnostics.
Expansion of Laboratory Capacities: Many labs increased their capacity for high-throughput testing. This expansion has left a legacy of increased efficiency and capacity for a broader range of tests, beyond just infectious diseases.
Focus on Telehealth and At-Home Testing: The rise in telehealth and at-home testing kits for COVID-19 has paved the way for more convenient and accessible diagnostic options for various health conditions, enhancing patient engagement in their health care.
Collaboration and Partnerships: The pandemic led to increased collaboration between diagnostic labs, healthcare providers, and governmental agencies. These partnerships have continued, leading to more integrated and coordinated healthcare services.
Negative Impacts: The Shadow of COVID Healthcare Fraud
Despite these positive developments, the diagnostic laboratory industry also faces significant challenges due to COVID-related healthcare fraud.
Financial Strains Due to Fraudulent Practices: The urgency and scale of COVID-19 testing opened doors for fraudulent activities, including billing for unnecessary tests and price gouging. This has resulted in financial strain for the industry, as payers increase scrutiny and tighten reimbursement policies.
Reputational Damage: Instances of fraud and malpractice have cast a shadow over the laboratory industry, affecting its reputation. This has led to a loss of trust among patients and healthcare providers, potentially impacting the utilization of lab services.
Regulatory and Compliance Challenges: In response to fraud, regulatory bodies have heightened their oversight, leading to stricter compliance requirements for laboratories. This increased regulation can be a burden, especially for smaller labs, impacting their operational efficiency and profitability.
Resource Allocation Issues: Many laboratories heavily invested in COVID-19 testing capabilities, which may now be underutilized. Shifting resources to accommodate a broader range of tests while maintaining profitability is a challenge many labs are currently facing.
Adaptation and Moving Forward
As the diagnostic laboratory industry navigates this post-COVID era, the focus is on adapting to these new challenges while leveraging the advancements made during the pandemic.
Emphasis on Compliance and Ethical Practices: Laboratories are strengthening their compliance programs and focusing on ethical practices to rebuild trust and ensure long-term sustainability.
Strategic Planning for Diverse Test Offerings: Labs are strategically planning their test menus to include a wider range of diagnostics, from routine blood tests to specialized genetic testing, ensuring their relevance in the evolving healthcare landscape.
Investing in Technology and Automation: To maintain efficiency and quality, labs are investing in automation and advanced technology. This not only helps in managing a diverse test portfolio but also in complying with regulatory standards.
Focus on Patient-Centered Services: Recognizing the importance of patient trust and engagement, labs are focusing on patient-centered services, including convenient at-home testing and digital access to test results.
Conclusion
The diagnostic laboratory industry is at a crossroads post-COVID. While the pandemic accelerated innovation and diversification in testing, it also brought to light significant challenges such as healthcare fraud. As the industry moves forward, it must balance the lessons learned during the pandemic with the need to maintain ethical practices, comply with regulatory standards, and continue innovating. The future of diagnostic laboratories lies in their ability to adapt, diversify, and focus on delivering quality, patient-centered care.